It's an no-brainer – list your business on Google My Business
Should you, as a small business, have a Google My Business Listing?
Yes you should!
Google My Business listings are the listings that show up on the right hand side of the screen when you are searching for a business.
It gives your business a powerful way to be found and it looks like this: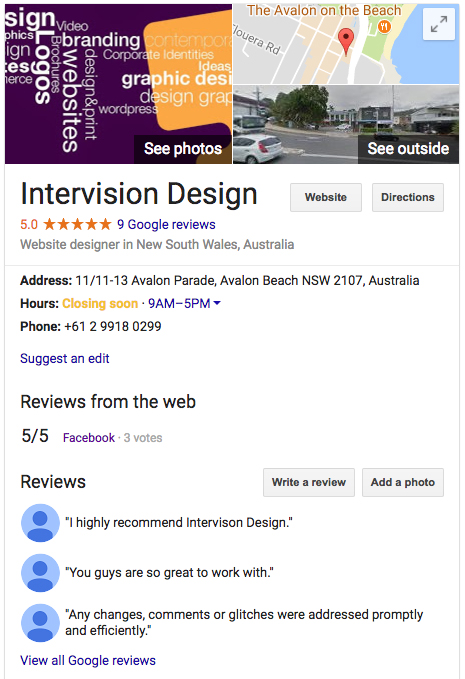 What are the benefits of a Google My Business Listing?
Most local businesses haven't even claimed their listings, so by doing so, you're already ahead of the competition.
There are several benefits, but most importantly, having a listing which is setup correctly, will allow you to drive more visitors to your site.
These are the benefits that Google cites:
Attract new customers
Bring in customers by sharing helpful information
Engage online, and build customer loyalty
Discover how people find your business
Plus your listing is FREE, so why wouldn't you?!
What information does a Google My Business Listing display?
Each listing allows you to show:
Business Name
Business Address
Business Telephone Number
Business Logo
Photographs of your Business
One-click direction, call, and website buttons
Popular times
Hours of Operation
Reviews
All of the above information is tracked by Google and therefore gives you an accurate pulse on how often customers are looking for your business.
How to create a Google My Business Listing?
First, set up your Google account (if you haven't already).
To unlock the option of setting up your Google My Business Page there are some basic things that you would need to do. The first thing you would like to do is to create a Google Account or a Gmail Account. Below are the steps on how to achieve that:
Click on the Search Result "Sign-in – Google Account"
If you don't have a Gmail account setup, then you will need to create one.
You will need to fill in the information as requested by the "Create your Google Account" online form. After that, simply follow the prompts.
Setting up your Google My Business Listing
Go to http://www.google.com/business and login with your Google username and pw.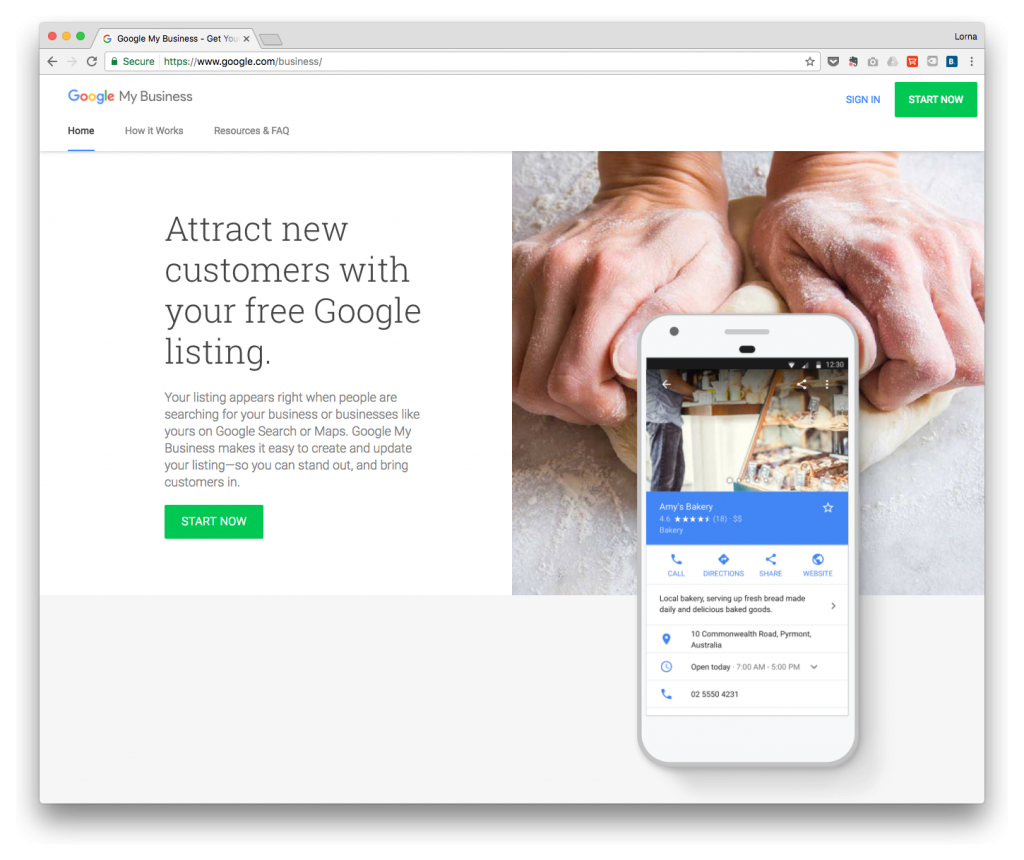 Add Business Info to your Google My Business Listing
This is self explanatory but getting every detail right is important if you want your listing to work well for you.
When it comes to your phone number, include your local listing first before a toll free option. This will help you rank higher.
Also add as much information about your company as possible, which includes your business hours and your business website address.
Add Images to your Google My Business Listing
Images are more important than ever when it comes to your Business Listings. If you think you can get away with having a single image, or worse yet, no images in your listing, think again.
Add a cover image, a profile image, add interior and exterior photos, product images, team members and menu items. Be sure to add them all.
Choose Categories for your Google My Busines
Categories are another often overlooked part of a business listing. Yet, they are very important to getting found by customers. The problem for a lot of businesses is they either ignore categories all together or they chose the incorrect ones for their businesses.
According to Google, you want to select categories that finish this statement: "This business IS a …" rather that "This business does…"
This means, be specific about the products or services you offer, but not the features your business has.
Use the right categories.
Google uses categories as a basis for its recommendations to people's searches. So, if you use the wrong category, your business won't be among those recommended by Google in a search.
Getting Reviews In Google My Business
70% of customers will leave a review for a business if asked, so ask!
You can encourage them to write a review from the "Review" option on your listing and you can make it easy by making your own review link (follow the instructions here).
If you've got your customers emails, send them a note with that link and ask for a review – 70% should say yes!
So there – either ask us to create your listing, or do it yourself, but either way you need a Google My Business Listing!