Google My Business (on Google Maps listings) reviews are gold.
However, getting customers to write a Google review can be tricky as Google doesn't really make it easy to write a review.
So you need to make it easy for your customers. The easier the process the more likely they will write a review.
Do this by creating a direct link to your Google reviews page.
Of course, your business must have a business listing on Google.
If you do not have a listing on Google, click here to learn how to create one.
CREATE A LINK FOR CUSTOMERS TO WRITE GOOGLE REVIEWS
Sign into your Google My Business listing account by going to https://www.google.com/business
If you have multiple listings under one dashboard, open the listing you would like to create a review link for.
STEP 2: CREATE A PROFILE SHORT NAME
Next, you will need to create a profile short name.
This is a short, custom name for your business profile that makes it easier for customers to find you on maps and search.
Click on the INFO tab on your listing dashboard. You will then see an option to add a profile short name (located under phone number and above website).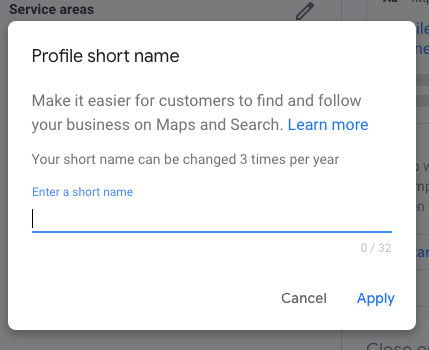 Make your short name either your business name, or a name people would use to refer to your business.
For example, we use "intervisiondesign" as our short name.
If your business has multiple locations, Google recommends adding the city or suburb to your short name.
STEP 3: GET YOUR REVIEW LINK
Once you have created your short name, go to the HOME tab on your listing. From here, you will notice a GET MORE REVIEWS card on your dashboard. Click on it to copy your new review link.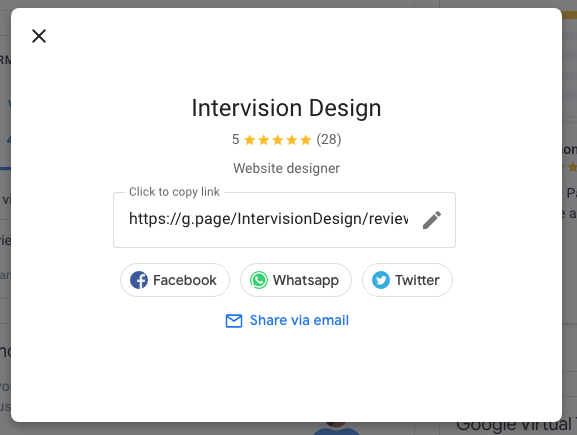 STEP 4: SEND THE REVIEW LINK TO CUSTOMERS
You can then send this link to your customers. It will open a window for them in their browser so they can easily leave a review if they are signed into their Google account.
Remember: It is against Google's policy to solicit reviews from customers by offering incentives. Instead, send out a friendly email to customers asking them to review your business after they used your services.
WANT TO SHARE YOUR REVIEWS WITH THE WORLD?
Check out Google's new Google My Business Marketing Kit
This new addition allows you to share your best reviews.
HAVE ANY QUESTIONS?
Please feel free to contact us today!