One of the most important things you have to consider when you start a business is how to reach your target audience, nurture them and show them the value of your products or services.
If you take a look around, you'll see that numerous well-established businesses have one thing in common: they use email marketing to reach their audience and deliver exceptional messages that capture their attention and lead them one step further down their marketing and sales funnels.
However, what's the element that makes email marketing one of the best marketing channels out there? 
Well, email marketing is not only the easiest way to reach your audience and get them to click on your calls-to-action (CTAs) but it also has the best ROI. That means that you get $55 for every $1 you spend on it.
(If you are not convinced – see these email marketing statistics you need to know in 2020).
Creating an email marketing list from scratch can be a tedious task; however, if you want to enhance your customer lifecycle marketing efforts, then you need to start building one as soon as possible.
Now Let's See 4 Amazing Ways to Help You Create Your Mailing List
1. Create a Magnetizing Pop-up Form
The first thing you need to build your email marketing list is to get your already successful marketing channels to work in tandem.
In this case, your first ally to do that is your website. Having an amazing digital space to show your potential customers the value of your business is always the most effective strategy to increase your brand awareness and let your audience get to know you.
Now, if only there was a way to capture your visitors' email address and turn them into your subscribers.
Well, that's what pop-up forms are here for. Getting the hang of pop-up forms is easy as the only thing you need is to create them and then place them on any page of your website.
While there are numerous strategies to use, using simple pop-up forms that will require your visitor to enter their email address and submit it is your golden ticket to nail your list building.
Here's an example from Bruno Magli: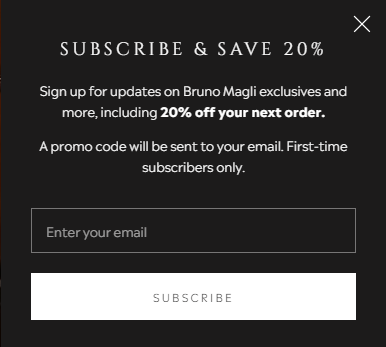 Growing your subscriber list, especially when you start a new online store, is of paramount importance to expand your growth in a short amount of time.
2. Use an Email Marketing Platform
While pop-up forms will allow you to gain new subscribers, your mailing list will fall apart if you don't find a way to keep it engaged and up-to-date with your content.
To communicate with your subscribers and keep them away from clicking on the unsubscribe button you need to start delivering amazing content that will speak to their interests and push them a step further down your marketing funnel.
The easiest way to do it is to use an email marketing platform that will help you organize your list and allow you to send automated campaigns to keep it engaged.
According to email marketing statistics, automated messages can have 152% higher click-through rates and 70.5% higher open rates on average.
To get started you need to select a great email marketing platform that will equip you with the right tools. 
Taking a look at some of the best Constant Contact competitors will let you compare plans and features and help you to choose the service that better suits your needs.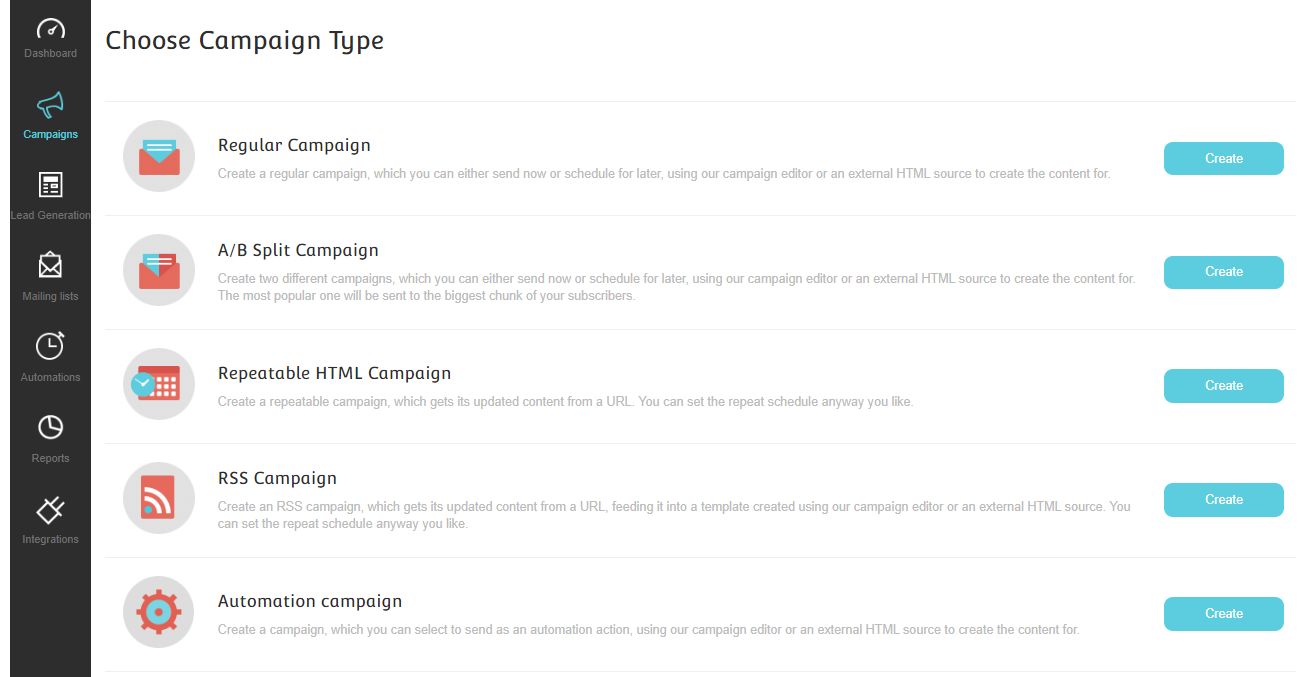 As experience has shown us, building a list and keeping it engaged with your business not only costs less but it can contribute to your customer retention endeavors and skyrocket your revenue.
3. Capture Your Audience With Landing Pages
Landing pages are one of the sharpest arrows in your marketing quiver to incentivize your target audience to take a specific action.
Compared to a website, a landing page focuses on incentivizing a visitor to click on a single CTA, either through amazing visuals or through sales copy that will persuade them to act.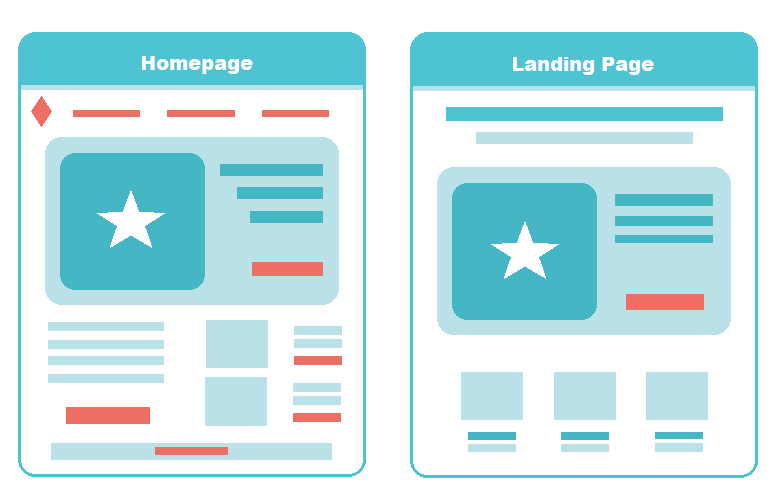 Without navigation links or clickable logos to send them away, landing pages can be your greatest weapon to increase conversions for your PPC or email marketing campaigns.
So now, how can you use them to build your list?
As landing pages rely on the exchange between clicking on a CTA and getting back a reward, asking your visitors to subscribe to your newsletter by filling in their email address to get, for instance, a free ebook or a trial of your product is the best way to get them to join your mailing list.
Here's an example from Shopify: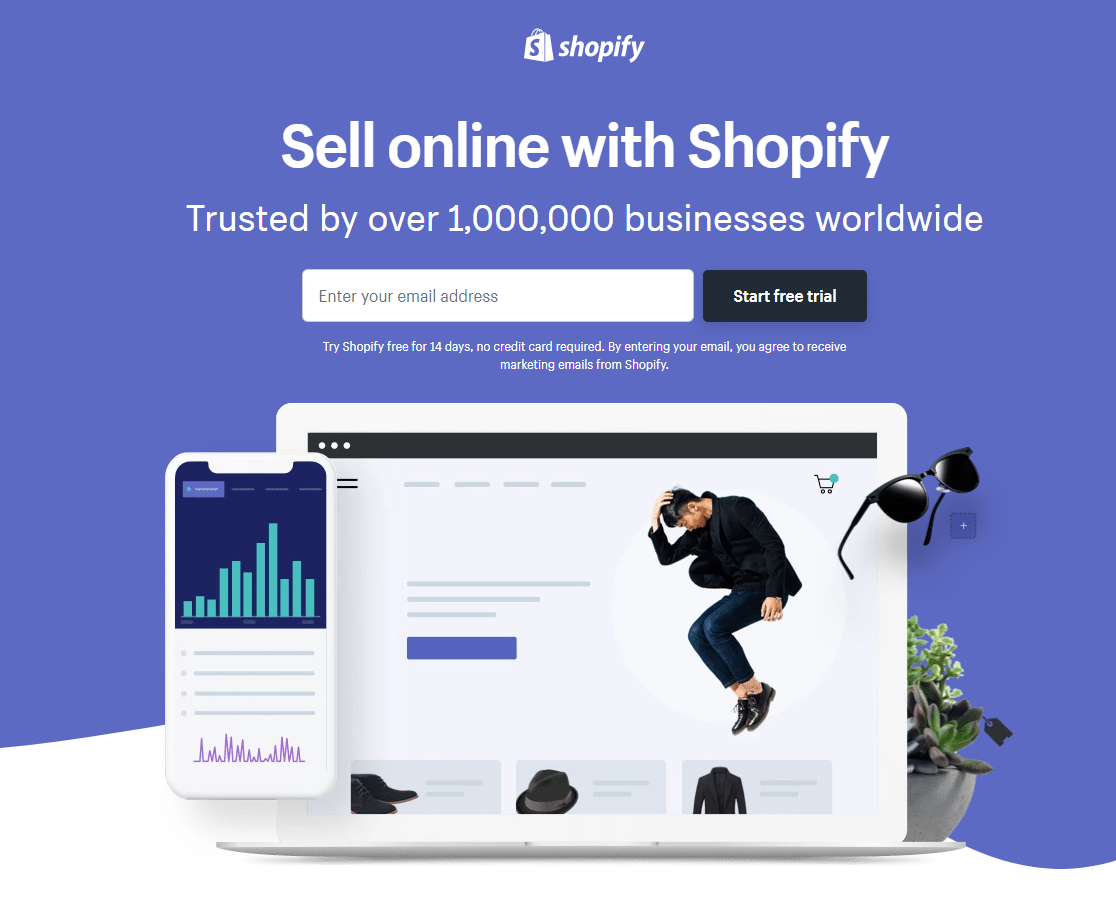 4. Build Your List With Your Social Media Followers
The simplest and easiest way to discover what your audience likes and create a customer profile is through social media.
As the majority of consumers already have numerous profiles across different social media platforms like Facebook, Instagram, and Twitter, using your social media audience to expand your email list is one of the most cost-effective tactics to get better results in a short amount of time.
To leverage social media the right way you have to include a separate section or link in your social media account that will redirect your followers to a new subscription page.
Here's an example from SXSW's Facebook profile:

By clicking on the "Sign Up" button, SXSW's Facebook followers are redirected to a page where they can fill in their personal information and preferences and, ultimately, subscribe to their newsletter.
Using a more advanced subscription form will also give you the opportunity to do a demographic segmentation of your audience that will contribute to your lead nurturing efforts later on.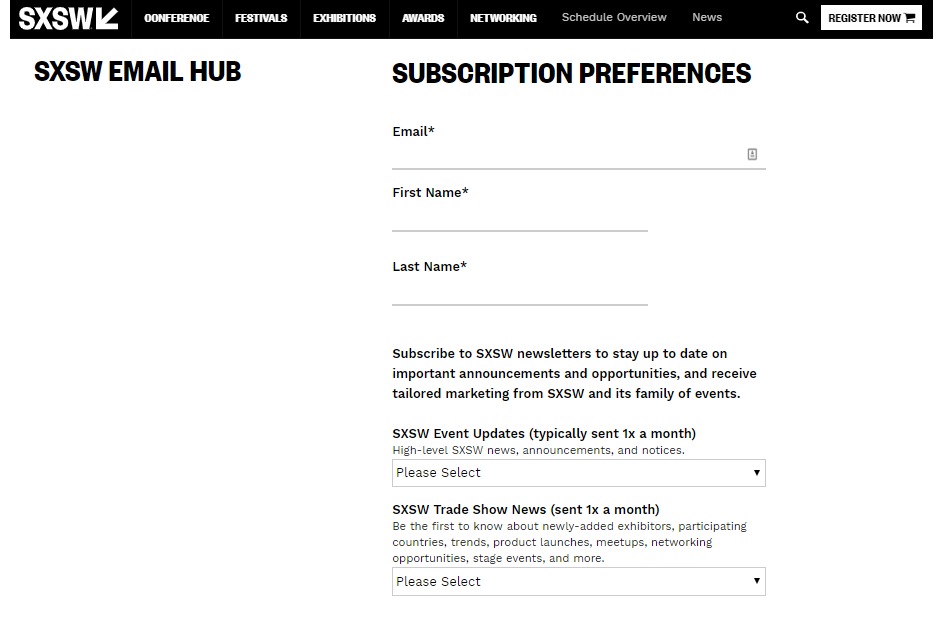 Building a mailing list through social media is not only an amazing way to leverage your other marketing channels but it can also give you the means to target a very specific demographic you want for your list.
For instance, using Facebook ads to promote your landing page to a targeted audience will let you capture their email addresses and build an amazing mailing list that will be genuinely interested in your business and products.
Takeaway
Email marketing is one of the most cost-effective marketing channels to deliver your marketing campaigns to your customers and prospects. 
While building a mailing list can take time and effort, creating one is necessary to develop an effective email marketing strategy that will promote the growth of your business. 
To give you a helping hand, take a look at these 4 simple ways that will not only help you build an amazing email marketing list from scratch but also give you the means to keep your subscribers happy and engaged.
Author bio 
Marilia Dimitriou is a Creative Writer working for email marketing software Moosend. Her passion for writing has made her find new ways to combine the art of Creative Writing with SEO Copywriting. When she's not writing articles, you'll find her enthusing over marketing tech and automation.