Instagram is too big to ignore!
We all know that social media is one of the key elements of a successful website. And instagram, with over three hundred million active monthly users and with the majority of users being under 30 Instagram can no longer be ignored. So how can instagram help promote your business?
In this article I am going to share 5 ideas which will help you promote your products or services on instagram.
Just to give you a quick example of the power of instagram. I have a friend, Matilda Dumas, who is an artist. She doesn't have a website and she is not currently represented by a major gallery (although she should be – but that is another story!). Taking a cue from her kids obsession with instagram she started her own account, taking pictures of her work, liking and commenting on other artists' work and connecting with galleries. Very soon – galleries were following her, and people were contacting her to buy her work directly. And that's without implementing these ideas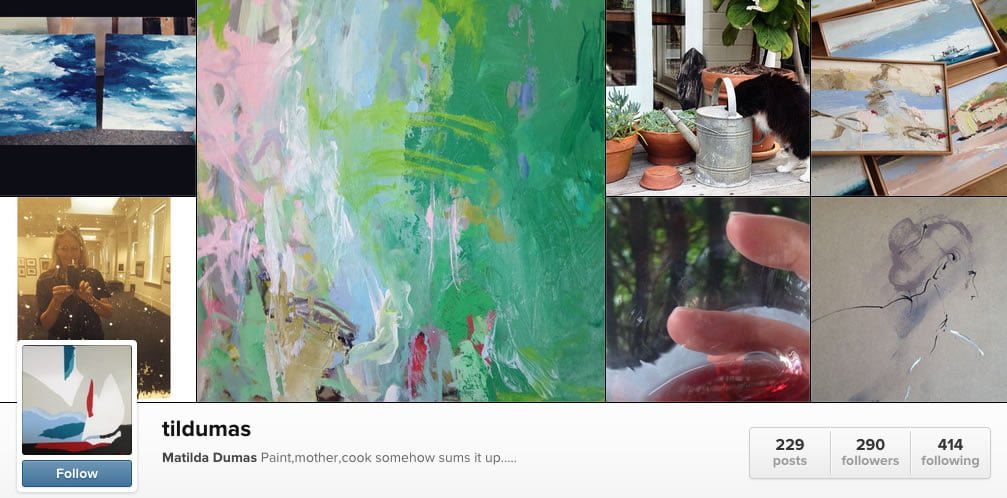 1. Create a hashtag strategy
You can use up to 30 hashtags per post but you don't need to use that many. Post a few in the original post and add more in the comments as there is a correlation between the number of hashtags used and the amount of likes received. So here we go – some suggestions for using hashtags well:
Use hashtags which are relevant to each photo
Also do some research to make sure you are using popular hashtags and ones that are searched for.
Use iconosquare to see which hashtags have lots of images associated with it.
Use industry specific hashtags
2. Work on building trust
Testimonials and before/afters are a great way of building trust with your followers – Kayla Itsines (with 2.4 million followers) does this well. With a business that sells guides on getting a Bikini Body – before/afters on instagram are a great way to show transformations: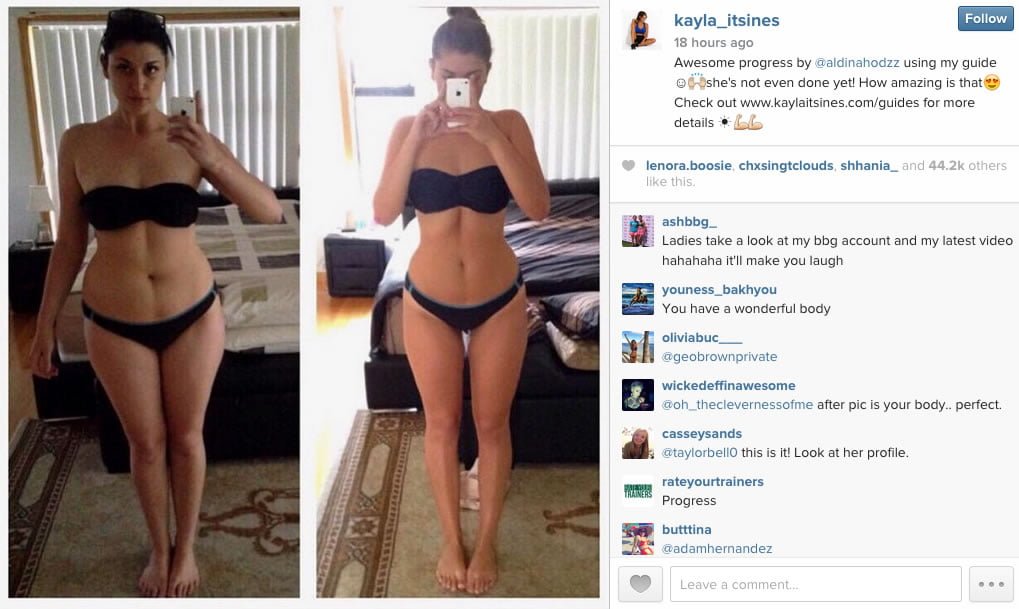 3. Reach out & connect
65% of Instagram users say they feel flattered when a brand likes their post. So as a business – connect with other people on instagram – be active – comment, like & repost other people's posts. And if people leave comments on your image – reply – it's a great way to start networking.
Another strategy is to check out people who use the same hashtags as you and then and let the magic networking begin.
4. Cross Pollinate
The only place you can put an active hyperlink (e.g. your website link) on Instagram is in your bio – so you will have to get creative. Put calls to action within the images you create and your captions.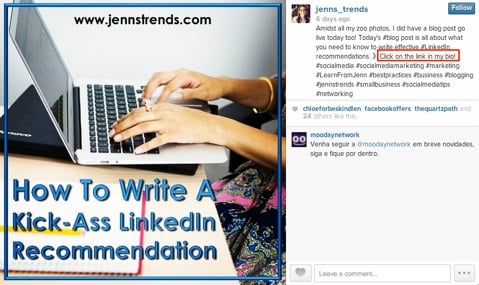 For example when Jenn posts a new blog post on her website, she also promotes it on instagram with an image that includes a caption that explains what the post is about and then clearly states, "Click on the link in my bio."
This takes them through to the homepage of her website.
Also you can do these other things to cross pollinate:
Add social media icons to your website & blog – push people to follow you on Instagram.
Post your Instagram photos to Facebook. This creates a link back to your Instagram account, so anyone can click through.
Post your latest image to Google Plus – let your followers know where they can connect with you on Instagram.
5. Frequently & Consistently
And lastly as with all social media platforms – post frequently and consistently. The Beaufort Bonnet Company posts 4 times a day and says 80% of their sales come through instagram!!