For most businesses, a website is the first impression a potential customer will have of your brand.
A well designed website is one element of a successful website – and can have an impact on your ranking, your bounce rate plus whether you convert your visitors into customers.
However, there are also other key design features that site visitors want to see on a website and these have been uncovered by Hubspot who asked 285 people around the U.S. which elements they feel are most important for a company website.
Check out the results from Hubspot, below: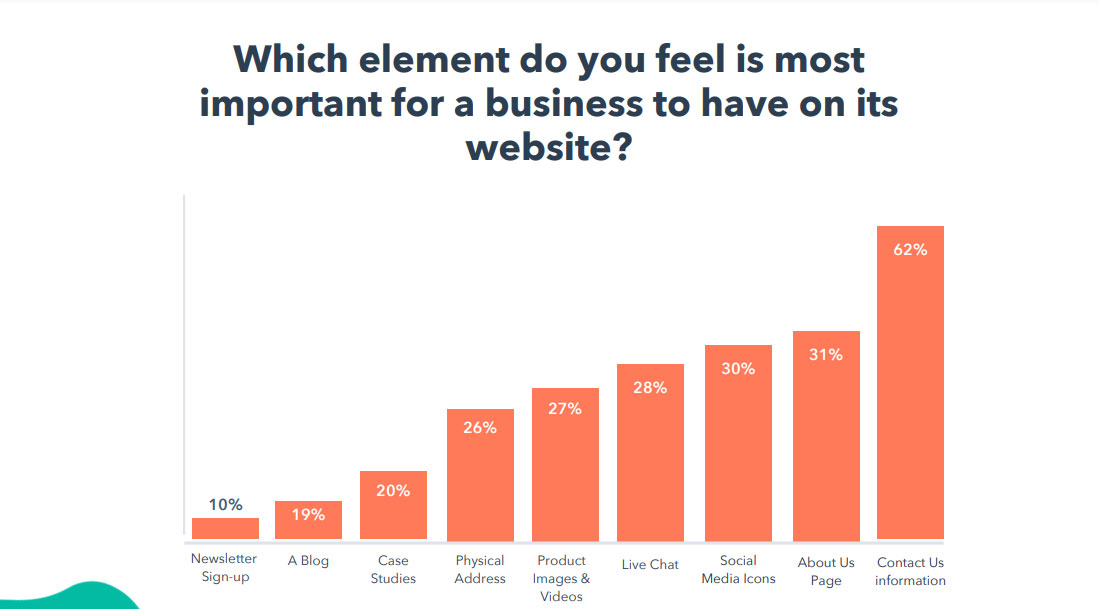 Here are the top 10 responses:
For the full article click here
1. According to 62% of those polled, including contact information on your website is critical.
Include the following:
Phone numbers – these should be a CLICK TO CALL (for mobiles)
Contacts (phone & email address) in an easy-to-find location, like the header of the page.
A clickable EMAIL US  call to action button
Contact forms through the site
2. 19% believe a blog is most important.
A blog is one of the most effective ways to create and distribute high-quality content related to your products or services.
And it is a great way to widen your net, bringing in more traffic to your site.
3. An About Us page is a vital element, and can help your brand share its story.
85% of consumers say they'll only consider a brand if they trust the brand.
An ABOUT US page helps to create this trust – so tell people who you are and why your work matters.
For more inspiration – check out these ABOUT PAGE EXAMPLES or read this blog post on your THE POTENTIAL OF YOUR ABOUT PAGE.
4. You'll want to include social media icons to drive traffic to your social pages.
According to 30% of those surveyed, social media icons are important allowing your web traffic to link to your social platforms.
5. According to 20% percent of those polled, customer testimonials can effectively take your website to the next level.
Customer testimonial pages can help you build trust with prospects – so ask for testimonials from your clients and include real names.
6. Geographic details are invaluable for local search SEO.
26% feel a business' physical location is a key component of an effective website – so optimise your business for local search as most product or services searches include a location (e.g Graphic Designer Avalon).
7. Live chat is an important element of a business' website in 2021.
According to 28% of our respondents, live chat is a necessary component of a successful website giving instant answers & feedback.
Other reasons to consider a chatbot:
8. 27% of people say it's most important to use original videos and images of your products or services on your website.
Images are good, but many customers say that they are weary of stock images – so original images & videos are important.
Including BEFORE & AFTER photos are beneficial for companies such as landscape gardeners.
For services less tangible, such as insurance or life coaching, you could show images of your friendly team or, consider including video.
Videos are great for explaining your business' purpose are powerful opportunities for increasing trust with potential customers.
9. According to 10% of those polled, a newsletter sign-up button is a valuable component of a company's website.
A subscribe button allows customers to easily receive your updates and a database of interested site visitors is gold!
10. And Don't Forget About Analytics
Of course there are lots of other elements which are important in a website, such as a home page with a clear message and easy to use navigation,
And then there is Analytics.
Analytics can help you determine how your website is currently performing, the pages that attract the most visitors, and how you might improve your web design for the long-haul.
It is important to continue monitoring your website & tweaking accordingly to ensure it continues to meet – and exceed – your site visitors expectations.
For the full article click here