Google Analytics is a free tool which can be easily be installed into your WordPress website giving you instant access to over 80 reports on how your site is doing. And, whilst this is very powerful, it can also be overwhelming.
So here are the 5 key things to check out when you log in to your Google Analytics account which will allow you to easily see how your site is doing.
1. Get a snapshot of how your site is doing
When you first log in to your Google Analytics account you will be greeted with a snapshot of how your site is doing. You can instantly see how many visitors your site received for a set date range & how many were New Visitors and how many were Returning Visitors.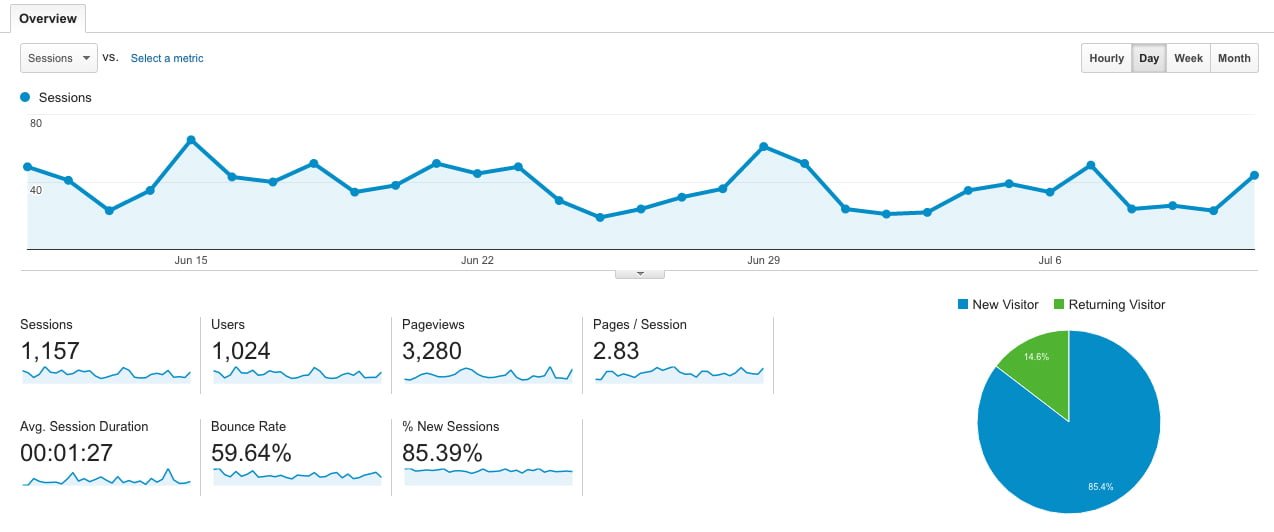 Here's how to interpret each of those metrics:
Pageviews: This is how many times the page was loaded, so if someone loads a page twice, it counts as two Pageviews.
Avg. Sessions Duration: This is an average session time – and of course, the longer, the better.
So you can compare with other sites consider this:
The average session duration for traffic coming in from Google organic search is 53 seconds
The average session duration for direct traffic is 1 minute and 50 seconds.
Bounce Rate: This is an excellent diagnostic tool. It tells you the percentage of traffic in which the person left your site after viewing only one page.
2. Find out about your audience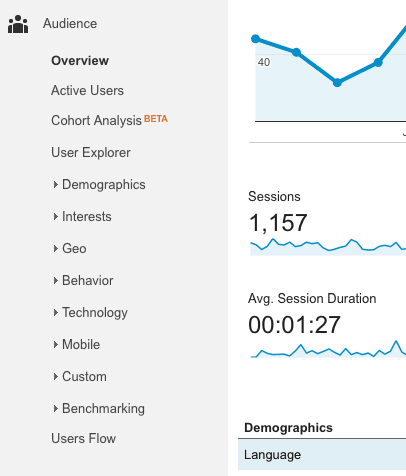 Google Analytics allows you to find out about your audience.
Click on the AUDIENCE reports and you can find out about your audiences' age, gender, location and more.
Click on GEO and you can view visits to site by location.
Whilst you are in this section you can also check out which devices they are using – click on MOBILE and you will get the stats on how many are using which device to access your site. Good figures to know!
3. Identify your most popular content
Click on BEHAVIOUR > SITE CONTENT > ALL PAGES and you will see metrics for each page of your site allowing you to determine which of your site pages, blogs and projects is of interest to your site visitors. It is actually quite exciting to see how many people are reading your well crafted blog post and then you realise quality content is one of the key elements of a successful website.
Also check out the "Bounce Rate" and "Average Visit Duration", as these will give you an indication of the performance of your pages.
4. How are people finding your site?
Google Analytics gives you great reports on how people are finding your website.
To find these out – look under ACQUISITIONS > ALL TRAFFIC > CHANNELS

All Traffic tells you how someone found your site with reports being broken down into the following areas:
Organic search: (finding your site through putting keywords into a search engine)
Direct: (finding your site by typing your domain name into a browser)
Referral: (finding your site via another website e.g. guest blogging)
Social: (finding your site via social media)
If you click on ORGANIC SEARCH you can also get an idea of what KEYWORDS people are using to find your site.
For more social media insights look under ALL TRAFFIC > SOCIAL
As well as the SOCIAL reports under ALL TRAFFIC, if you really want to dig into social media, look at the Social reports under the SOCIAL link – this gives more information regarding referrals to your site via social media.
5. User Flow
Click on AUDIENCE > USER FLOW and you will find a visual representation of the path visitors follow throughout your website from one page to another.
The red drop-off shows where visitors leave the page completely.
User Flow can help you understand what content is working, how visitors engage with your site and if a particular page is creating trouble with your visitor experience.
In conclusion …
Start with these Standard Reports and then expand and look at others. Before you know it you will be addicted to Google Analytics.
For all Intervision clients we incorporate Google Analytics into your website free of charge, so you can go and check out your Google Analytics reports immediately.
For everyone else, if you'd like help, please contact us & we will happily assist you in measuring your online success!